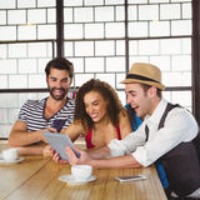 Wikibuy
Empowering people with information.
2 months ago • 1 min read.
Are Amazon shoppers spending too much on school supplies?
It's that time of year again — back-to-school shopping. An activity that's become a lot easier and a little less dreaded as parents go online to shop their kids' supply lists.
But if you're under the impression that you're getting the best prices on Amazon, you could be wasting a lot of money.
This May 2017 study of online school supplies prices found that Amazon's prices changed hour-by-hour, state-by-state and shopper-by-shopper. And for many products, consumers could have found a better deal elsewhere.
It showed that Amazon's school supply prices were 15% higher on average, and that during May 2017, Amazon shoppers overpaid for the basic back-to-school supplies every kid needs.
But how do you know if you're getting the best price? Simple. Use Wikibuy.
Wikibuy is a Chrome extension that allows consumers to compare prices for many products they see on Amazon. Here's how it works:
1. Someone with the extension visits a product page on Amazon.
2. Wikibuy checks other online retailers like Jet, eBay, Walmart and others, to see if there's a better deal.
3. Within seconds, the extension shows possible discounts for the product.
4. With one click, shoppers can see price comparisons, price histories, product reviews and more. They can easily browse other offers and buy the product at the lowest price.
See how much you could save on school supplies with Wikibuy. Get it

HERE

.