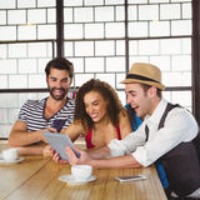 Wikibuy
Empowering people with information.
2 months ago • 1 min read.
Every day is like Amazon Prime Day with this genius shopping hack
Prime Day, Black Friday, Cyber Monday — what if you could get deals like this every day of the year?
Seriously, all of these shopping "holidays" are great, but the stress and buyer's remorse isn't always worth it. There's a lot of pressure in picking the

perfect

TV. Not to mention, other retailers are jumping on the bandwagon on Prime Day. So is Amazon even giving you the lowest price on Prime Day?
It's hard to compare prices, study product descriptions, search coupons and calculate associated fees in the drop of a hat.
But what if I told you there's a tool that does it all for you?

Wikibuy

does it. With this Chrome extension, every day is like Prime Day.
While you're shopping on Amazon or any other retailer, this Chrome add-on goes to work to find you the best price. It looks for lower prices, coupon codes and rebates to give you the best deal.
If a better price is found, a notification will pop up in the bottom left corner of your browser showing you the discount in less than 10 seconds.
Click the notification, and it shows you all the retailers that have a lower price. It even gives you the estimated total (including shipping and tax details) and arrival date without having to go

all the way

through check out.
The best part?

It's completely free!

You don't need a $99 membership to use this tool. Get Wikibuy

HERE.