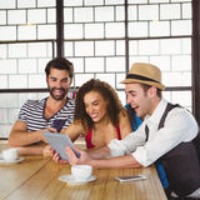 Wikibuy
Empowering people with information.
19 days ago • 1 min read.
How I afford to stay on-trend on a budget
I used to justify my shopping addiction.

"It's an investment piece." "It was the last one in my size. It's meant to be!"

I've told myself (and my friends, relatives and maybe even the Starbucks barista) these excuses more often than I can count.
But I don't have to feel guilty about shopping anymore

.
I use

Wikibuy

to find the best prices on the latest trends. From price comparisons to coupon codes, this Chrome extension does it all for me.
Here's how it works:
While you shop at Nordstrom, Nike, Victoria's Secret or almost anywhere else,

Wikibuy

goes to work in the background to find and try coupon codes. These codes can get you free shipping, discounts or even freebies.
I just saved

$20

with one click at Anthropologie. What's better than that?
How about saving

$61

on Ray Bans? That's right. Not only does

Wikibuy

find you working coupons on thousands of sites, it also price compares while you shop on Amazon. It checks hundreds of other sellers and notifies you of the best deal. And yes, that includes shipping and tax.
A few clicks later and your closet looks even better IRL than it did on your Pinterest board.
The best part?

Wikibuy

is completely free. No costly memberships. No gimmicks. Just low prices. Get it

HERE

.