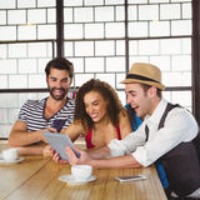 Wikibuy
Empowering people with information.
3 months ago • 1 min read.
The 7 Most Amazing Things on the Internet
1. Hacker Typer
Who needs Code Academy? Hacker Typer makes you look like the computer engineer your parents always wished you'd become. Find a crowded coffee shop, start pounding your keyboard, and watch as you easily bypass the direct orthogonal matrix right into the mainframe.
2. Wikibuy
Oh yeah, we went there. If you buy things online, then

Wikibuy

is easily one of the greatest things on the internet. Within seconds of looking at a product, Wikibuy tells you if there's a top-rated retailer with a better price or a hidden coupon. Even better? It's completely free.
Try Wikibuy for free

HERE.
3. Zoom Quilt
Zoom Quilt is a mind-bending, hypnotic piece of internet art that will fling your consciousness through multiple dimensions of space and time. Do(n't) put this on the big screen at your next team meeting.
You've been warned.
4. History of Japan
Why can't every history class be like this? This video will teach you more about Japan and WWII than an entire semester of History 387 could ever hope to do.
5. Space Jam's Website is Still Alive
Remember Michael Jordan's greatest game? No, not the 1998 NBA Finals. I mean Space Jam, Michael's epic dual against mutant space aliens. Well if you haven't noticed, the original website is still live and it's pure 90's gold.
6. r/oddlysatisfying
Things fitting perfectly. Incredible symmetry spotted in the wild. Exhilarating geometry. Just check it out.
7. Russia police choir covers "Get Lucky"
We did it. They said it was impossible, but we did it.
We found smiling Russians. In fact, we found SMILING Russians that are SINGING Pharrell. Try not to smile — we dare you.
Did we miss your favorite internet gem?

(ノಠ益ಠ)ノ彡┻━┻
Well, leave us a comment.